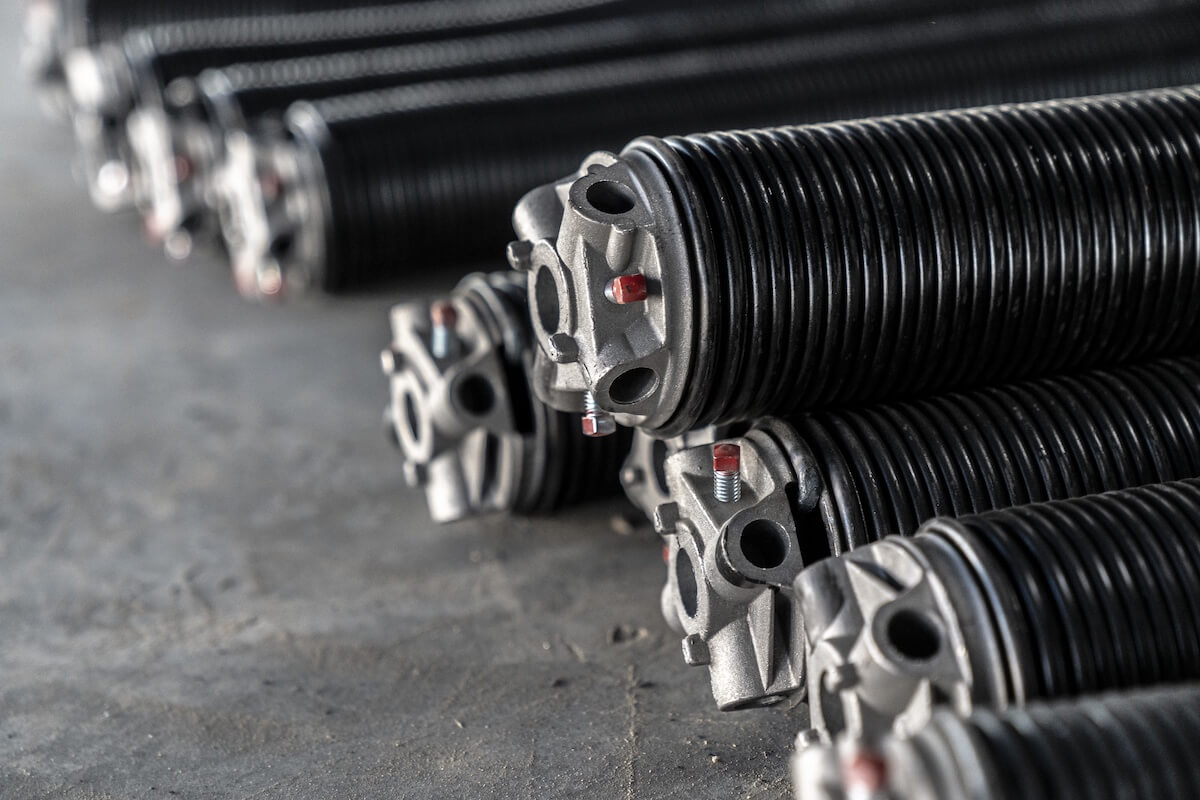 Garage Door Spring Repair
24 Hour Emergency Services
25+ Years Experience
5 Star Customer Reviews
Locally Owned & Operated
100% Customer Satisfaction
Get A QUOTE NOW!
You can always count on Garage Doors Near Me to get to you fast and get the job done right the first time.
Garage Door Spring Repair and Replacement Plano
Without the proper tools and training repairing broken or worn garage door springs is a dangerous task.  We've been in business for over 25 years and offer 24/7/365 emergency spring repair services for residential and commercial customers. We provide professional residential and commercial garage door spring repair services to all Plano, Frisco, Richardson, Allen, Lewisville, and surrounding areas. Schedule an estimate today.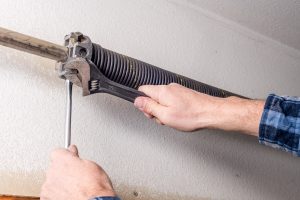 Exactly What Are They?
Overhead garage doors are heavy. Residential models are generally in the range of 60 to 150 pounds, and commercial models may go as high as 300 pounds. That would put a lot of strain on automatic garage door openers, so springs are used to counterbalance that weight. That also means you can easily open and close the door manually during a power outage or opener malfunction.
Extension springs stretch and pull, the way you might normally think of spring working. They were once common for one-piece doors but they were dangerous — they could fly use — so they're no longer made. Tension springs stay in one place and work by twisting and untwisting. They're safer and plenty strong
24 HOUR EMERGENCY SERVICE AVAILABLE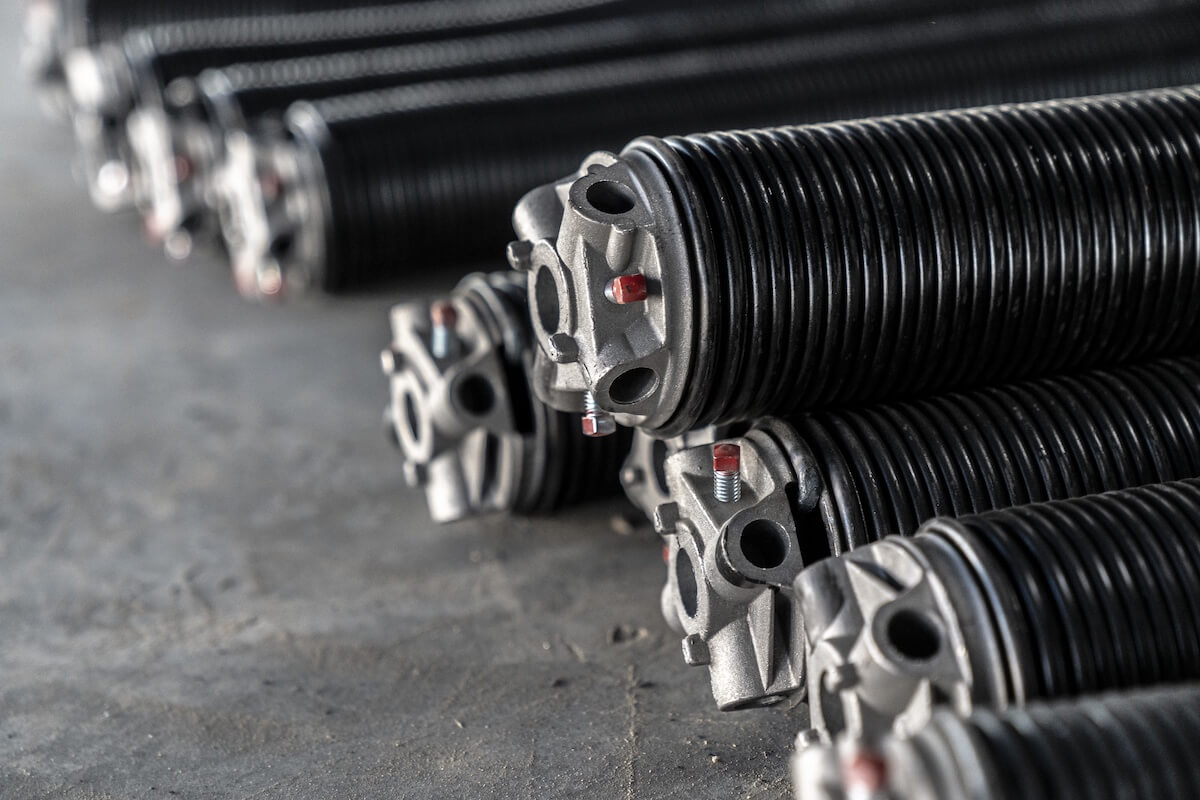 How Tell If They Need Repair
There are several indications that a spring is broken and needs replacement.
there's a large gap in the coils 
the door came crashing down 
the opener's safety feature stops after raising the door about 6 inches 
the top of the door is bent 
you heard a sudden, loud noise 
you can't lift the door manually
Springs weaken over time and need a repair such as readjustment or replacement. Symptoms for this include it being hard to lift the door manually as well as being to keep it from coming down too fast. Jerky automatic opening or closing is another clue. You can do a quick test of the spring and balance yourself.
Pull the release for manual operation
Lift until the bottom of the door to knee high and release it. Does it comfortably return to closed?
Lift until waist high. Does it remain in about the same position?
Raise it head high. Does it fully open when released?
Replacements
We offer replacements in two basic types — galvanized and oil-soaked. Each has its pros and cons, trading cost with lifetime in dry and humid climates. Picking the correct specifications is trickier. We could measure the existing spring's size and color coding, but it might not have been the best choice in the first place. Besides "size and fit," it's important to select the right IPPT — inch-pounds per turn. Otherwise there can be excessive strain and wear on the opener and drive as well as excessively high force settings. The best choice depends on several factors, including the door weight and height along with the radius of the tracks and drum.
Most doors have 2 or more springs and it's best to go ahead and replace the others as well. They're likely to break sooner rather than later, so that saves the cost and disruption of us making another visit. Our worn or broken spring repair includes adjustments to the torsion so there's not too much upward or downward force.
Premium Products
With a little maintenance (an annual adjustment, cleaning, and lubrication is advised) standard springs last about 10,000 cycles. A bit less in humid areas due to corrosion. With use at around 3 times a day that gives an expected lifetime of 8 to 10 years. Commercial overhead doors are likely to experience much more use for a shorter lifetime.
We can install extended-cycle products that have 2 or 3 times the cycle rating, avoiding disruptions and saving money over the long run.
DIY Risks
Although you can find instructions on the web, it's widely recommended that you don't tackle this home improvement yourself. First, it's not really a matter of just following instructions. The details of attachments and adjustment mechanisms vary quite a bit and many are complex and tricky. Second, the springs are under high tension and that can lead to serious injury with even a small mistake. So let our economical Plano garage door repair service take care of everything for you.
Expert Service You Can Trust
All Garage Door Expert technicians are nationally trained and certified in garage door repair and installation.
We provide 24/7 Emergency Service upon request, Satisfaction Guaranteed, and a Free Inspection upon request.
We employ the most experienced garage door technicians.​